2012
2011

Friday, August 12th 2011 8pm
The most exciting show in Miami!
Mojito Andaluz
returns for a new instalment
Espacio Abierto
A fusion of the hottest beats from Cuba and Spain
exploring connections within Flamenco and
Afro-Cuban traditions, with a contemporary twist.
Directed by Celia Fonta and Elena Garcia
Featuring musicians
Paco Fonta, Ignacio Nuñez, & Michael Font

Deauville Beach Resort Jazz Club
6701 Collins Avenue • Miami Beach, Florida 33141
$20.00 at the door

Flamenco Festival Miami 2011
VI Festival de Cante Flamenco en Miami
Cafe Cantante
February 18th, 19th 2011
Adrienne Arsht CenterCarnival Studio Theater
2010
Hip Hop Flamenco, Beats and Compas
Friday, November 19th, 2010 8:00pm
Byron Carlyle Theater
500 71st Street, Miami Beach Fl 33143
$25.00 General Admission
$20.00 Students & Seniors at box office w/ valid Id.
Hip Hop Flamenco, Beats and Compas is an encounter of old traditions juxtaposed upon an urban landscape. Choreographer and Hip Hop dancer Charles Williams and Flamenco dancer Celia Fonta unite their creative energies and delve into unknown territories. Williams will confront and deal with flamenco compass, its rhythms and melodies while Fonta will look for inspiration in modern hip hop beats. With original music by Flamenco singer and guitarist, Paco Fonta and singer/songwriter Derin Young, Beats and Compas will revolutionize the way you experience either of these musical genres.
Por Fin Restaurant
Flamenco Tablao
November 11th, 2010 7:00-10:00
2500 Ponce de Leon Blvd
Miami, FL 33134
305.441.0107
Rose Garden
July 23rd & 24th 2010 8pm
Colony Theater, 1040 Lincoln Road Miami Bch
Ensemble Español Spanish Dance Festival
June 14-27, 2010
Chicago, Ill

BassMusseum of Arts
Jue 6th, 3:00 pm
Guitar, Oud, and Dumbek Concert:
Colors in Flamenco Music
2121 Park ave
Miami Beach, FL.33139

Forever Flamenco
May 21st & 22nd, 2010
Wright College
4300 Narrangensett Ave, Chicago Ill

Guava Rugelach Festival
Sunday May 2nd 2010, 2pm
A Convergence of Klezmer & Flamenco
Temple Israel of GreaterMiami
137 NE 47th Street Miami

Sunday, March 21st
Al Andalus Caravana
A fusion of the Jewish, Moorish and Gypsy
roots of Flamenco
Sunday, March 21st , "Al Andalus" 4pm
Temple Emanu-El, 1701 Washington Ave Miami Bch

Saturday, March 27th, "Fragua" 8pm
Colony Theater, 1040 Lincoln Road Miami Bch

Lectures and workshops ( more info coming soon)

2009
Sleepless Night The Open Tent
November, 7th, 2009, 6:30pm,Lummus Park Main Stage, (Ocean Drive between 8th & 9th Str.) A Convergence of Klezmer & Flamenco
ROCIO NO HABITA EN EL OLVIDO
Octover,28th, 29th, 30th,& 31th, 8:00pm
Manuel Artime Theater
900 SW 1st Street, Miami Fl
Flamenco in the Sun
Siempre Flamenco in Concert
July, 17th & 18th
Miami Beach Dance Festival, Ballet La Rosa:
King Lear, Wednesday April 1st 8pm
Pure Flamenco, Thursday April 2nd 8pm
Manuel Artime Theater
900 SW 1st Street, Miami Fl
Rey Lear (King Lear), a flamenco ballet inspired by Shakespeare's King Lear,
Wednesday, April 1, 2009, 8:00pand Fiesta Flamenca a traditional pure flamenco performance
Thursday, April 2, 2009, 8:00pm
as part of the Miami Dance Festival at
The Manuel Artime Theater
900 SW 1st St
Miami, FL 33130
Tickets; $20 Door; $15 Advance ; $8 Students/Seniors
For tickets, please call
Ballet Flamenco La Rosa 305-899-7730 or
The Miami Dance Festival 305-858-70
02
2008
Festival Flamenco Miami
Sevillanas Party
Carnival Center Plaza
Monday, February 11th 8:00pm
Green Hamton Farm
Wellinton, Fl
School Perfomances/Demostrations
Wednesday, May 7th
Ft. Lauderdale, Florida
Friday, May 9th
Miami, Florida
Friday, May 9th 7:00pm
Spanish Monastery./ Private/
Saturday, May 24th 8:00pm
Gusman Theatre, Flamencazo
Saturday, July 5th 7:00pm
Casa Juancho /private/
Wednesday, July 9th
Flamenco and Tango Argentino
Willians Island Codominium
Aventura, Fl
2007
Saturday, May 5th
Mel Fisher's Treasures Spanish Voyage
Key West, Florida
June 12th - 24th
Ensemble Español Spanish Dance Festival
Chicago, Illinois
July 19th
Willians Island Condominium
Aventura, Florida
July 22nd, 7:00 pm
Flamenco in the Sun
Cafe Cantante
Parker Playhouse
707 NE 8th Str.
Ft. Lauderdale, Florida
August 25th, 8:00 pm
Talent Expose
Julius Littman Performing Arts Theater
17011 NE 19 Ave. North Miami beach, Fl 33162
October 3rd, 6:00 pm
Miami Lakes Library
6699 Windmill Gate Rd.
Miami Lakes, Florida
October 18th, 6:30 pm
Herbert A. Ammons School
17990 SW 142 Ave.
Miami, Fl. 33177
Festival de Cante Flamenco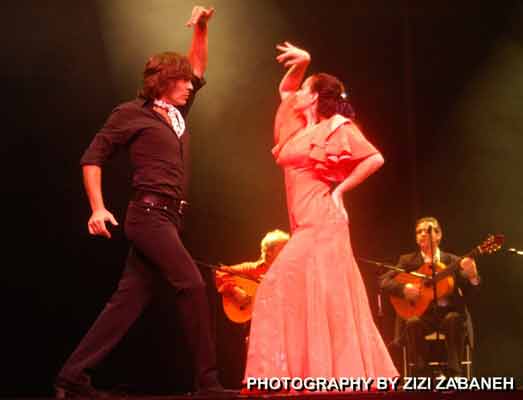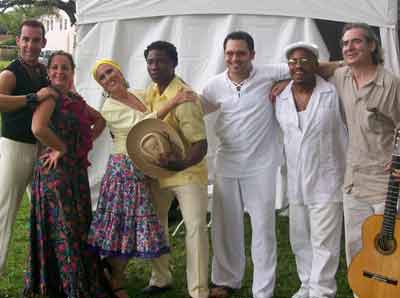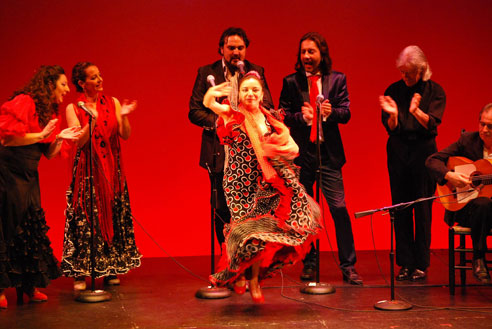 Join our Mailing List